As a Gamer, Do I Really Need a Gaming Chair ?
Oh yes! It will be the answer after you've chosen a right gaming chair.  
First, let's compare the two pictures below :
This may answer the another question in your mind :
Why do we call this a racing chair sometimes?
The car seats are designed like this because driving is actually an activity that requires a high concentration, especially when it rises as a sporting event such as racing.
Our body consumes a lot of physical strength while being concentrated. If this mental fatigue can not be alleviated, the continuity of concentration will be greatly reduced. Therefore, the designers must start their work with the part where the driver has the most contact in the car, which is the seat in this case. Imagine, is the status when you are driving same as that when you are gaming?
The first thing the gaming chair designers need to think about is comfort 
The comfort is not only the soft or hard level of the seat and back, but also taken into account the shape of encirclement and support for human body, skin touch, sitting position correction and many other factors.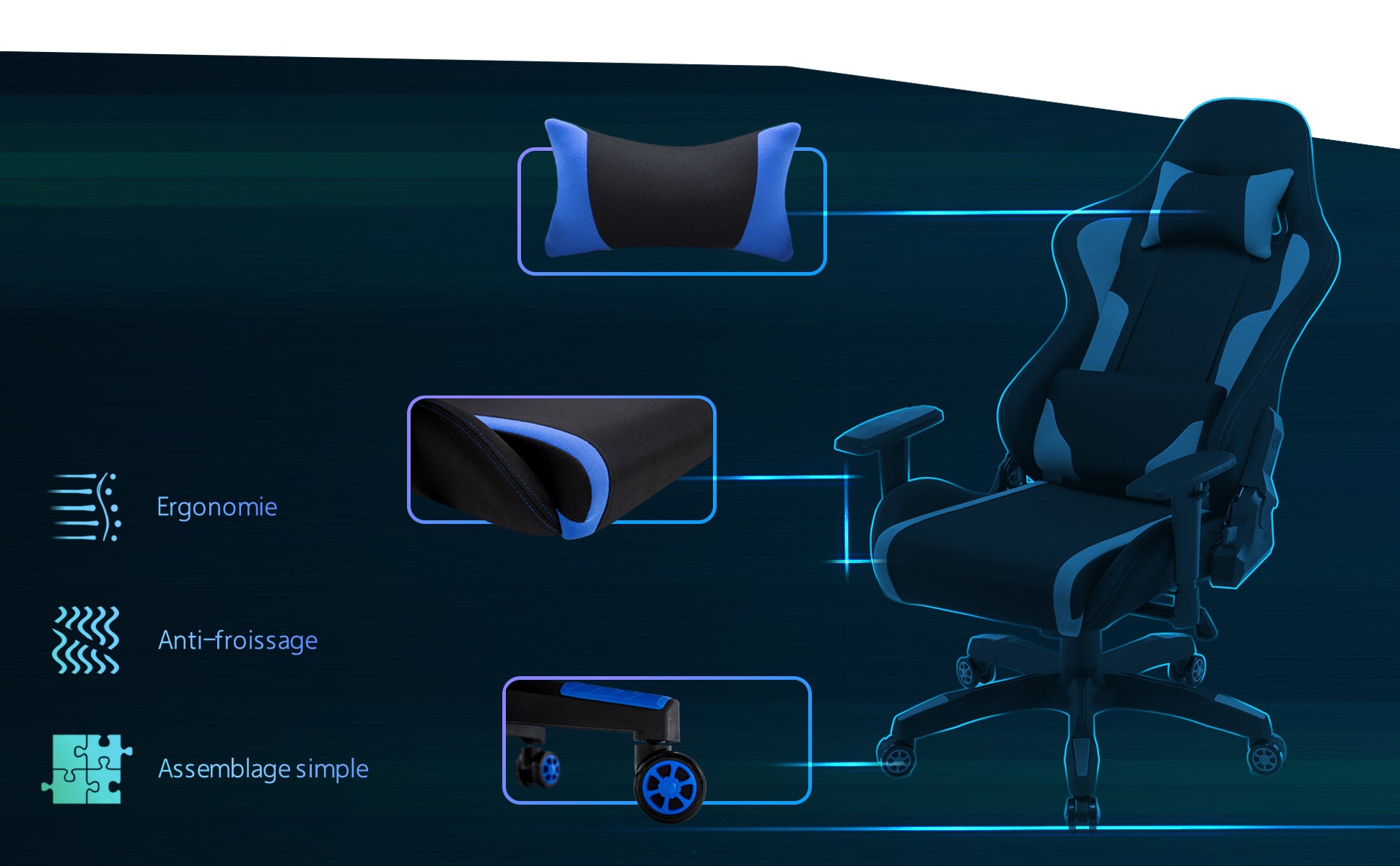 Then there are functional considerations 
Why do I need the adjustable armrests?
When you click and aim comfortably with your mouse by putting your elbow on the armrest which is adjusted on the right height, you'll really rely on it.
Why do I need the strap on my waist-rest?
When you sit for a few hours and need to straighten up your lumbar spine, it can be adjusted to where you want to lean on.
Why not choose the bed instead of putting down the back of chair for a rest?
When you want to get a break without taking a nap, the back in 135-degree is your best option. Relaxing a while and carrying on the call of duty is every gamer's destiny.
Finally, the design considerations 
What is the first using scene in your mind when you see a chair like this? Many people will think of colorful gameplay and the feeling of the accelerate secretion of your adrenaline. Even you can not tell why is that, but this feeling is definitely clear. Well, that's the natural impression that the design gives to you. You know for sure that it will accompany you through every journey, every challenge and every battle. 
Check out the video from our Italian gamer users
For more offers, you can visit the following website :
https://www.wethrift.com/iwmhchair
Got your back ! That's what Intimate WM heart Gaming chairs are created for.
---